Belle Georgia Peach
The Belle of Georgia peach is an old-time favorite that produces brilliant red flowers each spring and large fruit in late August. The peaches are very firm and highly flavored, with creamy white freestone flesh tinged with red. While excellent for fresh eating, the fruit is widely used for desserts and canning.
The Belle of Georgia peach is available in standard and dwarf sizes. While it is self-fertile, planting more than one tree is recommending to ensure a good crop.
Hardiness Zones
The belle of georgia peach can be expected to grow in Hardiness Zones 5–8.
Mature Size
The standard Belle of Georgia peach grows to a height of 15–25′ and a spread of around 8–20′ at maturity. The dwarf variety grows to a height of 8–10′.
Growth Rate
This tree grows at a fast rate, with height increases of more than 24″ per year.
Sun Preference
Full sun is the ideal condition for this tree, meaning it should get at least six hours of direct, unfiltered sunlight each day.
Soil Preference
The Belle of Georgia peach grows in sandy and well-drained soils. It is not drought-tolerant.
Attributes
This tree:
Produces large, creamy white freestone fruit with a bright red cheek. The flesh is firm, white with a tinge of red, and highly flavored–ideal for eating, baking and canning.
Yields ripe fruit typically in late August.
Is self-fertile but provides a better crop when planted in multiples.
Begins to bear large crops at ages 3–4 and reaches full potential at ages 8–12.
Blooms in the spring, with a profusion of bright pink to brilliant red flowers.
Is available in standard and dwarf sizes. Our standard Belle of Georgia seedlings are budded to Nemaguard rootstock, and our dwarf seedlings are grafted to Prunus besseyi (Sand Cherry). Dwarf trees should be staked to help them bear the weight of the fruit and prevent leaning.
Has a chill hours (CU) requirement of 800–850. (Chill hours are the average hours of air temperature between 32° and 45° F in a typical winter season.)
Grows in a rounded shape.
Wildlife Value
The fruit of peach trees are attractive to birds and squirrels
Related products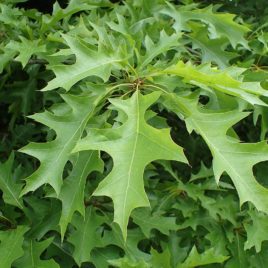 Nuttall Oak Trees-4-6 ft
This red oak is a sure-fire winner for ducks, deer, and folks who don't think they have a green thumb! Nuttall oaks are easy to establish, and grow like a weed as a young tree. Even better, Nuttalls can tolerate poorly drained sites more so than any other red oak. Wait there's more! Many of our Nuttalls don't even think about dropping until December, which means one of the highest carb acorns (about 45%) are on the ground when ducks and bucks need energy the most. Deer people: Plant Nuttalls in the back corner of your favorite big late season food plot, or along their favorite trail leading to that plot. Duckers: Establish Nuttalls in areas that can be flooded most every winter. Remember all duck holes need an occasional break from flooding. Call our MOLES staff for more help on establishing and managing oaks in your timber holes. Nuttall oak is definitely on our top five list of favorite oaks! Type: Zone: Red Oak section 5 - 9 Soil pH: 4.5 - 6.5 Mature Height: 100' Wildlife Value: Acorns are a favorite to deer and wild turkey. Also important to squirrels because acorns remain in the tree well into January when most habitat is flooding. Site Preference: Naturally occurs on poorly drained bottom sites. Tolerates intermittent flooding during the dormant season. Thrives when planted on moist, fertile sites with good drainage. Nut Maturity Date: November to January (varies) Alias: Texas Red Oak, Red Oak, Red River Oak, Pin Oak, Striped Oak
not rated
$

18.00
Add to cart