View cart
"Methley Plum Tree" has been added to your cart.
Bartlett Pear Tree
Known as America's favorite pear, the Bartlett variety actually came from Europe. It functions as the standard by which all other pears are measured and is a favorite for fresh eating, canning, and preserves. The Bartlett pear is easy to grow and will reward its owner with beautiful blossoms in the spring, large and luscious fruit in late summer, and a continuous crop for as much as 100 years.
Produces large, yellow fruit with a smooth and juicy white flesh in late August or early September — ideal for eating, canning and preserves
Blooms just before the leaves appear in the spring, with showy white flowers
Related products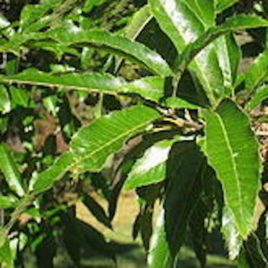 Sawtooth Oak-4-6 ft
Type: Cerris Oak (not red or white) Zone: 5 - 9 Soil pH: 4.4 - 7.1 Mature Height: 80' Wildlife Value: Large early dropping, abundance of acorns favored by deer and most all other wildlife. Site Preference: Must have plenty of sun and prefers fertile, well-drained soil to thrive and produce heavy mast crops. Nut Maturity Date: September to October Alias: Oriental Oak, Gobbler Oak Sawtooth oak has been an American citizen for quite some time, and proves itself a winner in our book as the first to provide hard mast for all walks of wildlife. Acorns rain down annually, at a critical time when other oaks haven't even thought of shedding. Sawtooths are so productive that we can fill the back of a pickup with acorns from three trees! Trail camera folks and early season bow hunters should all agree that sawtooth oak is a winner. Plant a few groves near the cabin or close to your property's perimeter for a low impact, easy access, and early season "sure thing" hunting spot. Acorns drop from mid-September to mid-October and as early as year six from seed on better sites, but we've seen them produce younger than that. This particular seedling comes from a 'gobbler' selection which we believe produces a heavier crop than the larger seeded strains.
not rated
$

18.00
Add to cart